Businesses are constantly looking for new ways to stand out and effectively reach their target audience in the ever-changing landscape of digital marketing. The dawn of Artificial Intelligence (AI) in 2023 has transformed nearly every aspect of digital marketing, except for one critical component: creatives.
AdCreative.ai is a game-changing platform that aims to revolutionize ad creative generation with the power of AI, bringing data-backed, result-driven ad creatives within reach of businesses of all sizes.
Data-Backed Success:
The success of AdCreative.ai is based on its data-driven approach. The platform's machine learning model continuously learns and evolves, thanks to one of the largest databases of high-conversion-rate ad creatives. Each ad is tailored for maximum impact, engagement, and conversions based on insights gleaned from this vast repository.
Empowering Conversions:
AdCreative.ai's proven ability to significantly increase conversion rates is a standout feature. When compared to traditional, non-data-driven approaches, early adopters reported up to 14 times higher conversion rates. This unprecedented increase in conversion rates highlights the platform's transformative potential, assisting businesses in achieving remarkable success in their marketing endeavors.
Explore GPTGO AI Tool Review 2023
Efficiency and Scalability:
The days of spending hours on manual creative design are over with AdCreative.ai. Businesses can use the platform to create conversion-focused ad creatives in minutes while maintaining their brand identity. This newfound efficiency not only saves marketers time but also allows them to test multiple creatives at the same time, refining their campaigns for maximum performance.
Furthermore, AdCreative.ai is intended to serve businesses with varying creative requirements. Whether a company needs one ad or thousands, the platform scales easily to meet the needs of marketers and advertisers, ensuring that everyone can benefit from its AI-powered capabilities.
Explore Salesforce Einstein GPT Review
AI-Powered Copywriting:
AdCreative.ai's AI-powered capabilities extend beyond visuals to copywriting as well. The platform generates sales-oriented texts and headlines that are tailored to the particular advertising platform being used. Businesses can streamline their content creation process by using AI as a copywriter, giving them more time to focus on core business activities.
Explore Synthesia Ai Review 2023
Creative Insights for Data-Driven Decisions:
AdCreative.ai provides marketers with actionable data on the performance of their ad creatives. The platform includes an easy-to-use dashboard where businesses can track campaign success and identify top-performing creatives. Marketers can use these insights to make data-driven decisions, refining their strategies to achieve even better results.
Furthermore, AdCreative.ai's AI learns from the user's data, allowing it to deliver even more personalized and effective results over time. This ongoing development ensures that the platform remains adaptable and dynamic, allowing it to stay ahead of the curve in the fast-paced digital marketing landscape.
Explore Novelai Review 2023
Seamless Social Media Creatives:
AdCreative.ai recognizes the importance of social media marketing and simplifies the process of creating engagement-focused social media post creatives. Businesses can use AI to easily create captivating content that is perfectly sized for popular platforms such as Facebook, Instagram, LinkedIn, Pinterest, Twitter, and others. This feature ensures that businesses can effectively reach their target audience across multiple social media channels.
Platform Integrations and Collaborative Power:
AdCreative.ai is designed to work seamlessly with major platforms such as Google, Facebook, ADYOUNEED, and Zapier. This diverse set of integrations increases the platform's adaptability, allowing businesses to maximize their marketing efforts across multiple platforms.
Furthermore, AdCreative.ai encourages collaboration by allowing up to 25 users to generate creatives at the same time under a single main account. This collaborative feature encourages teamwork, and creativity, and streamlines the creative process within marketing teams, improving overall workflow efficiency.
Unraveling the AI Magic:
A solid data-driven process underpins AdCreative.ai's exceptional capabilities. The platform collects creative content from popular social and display platforms and meticulously analyses each element to generate over 80 data points per image.
These data points, along with performance insights, power the platform's one-of-a-kind machine learning model, which quickly generates high-ROI ad creatives and ranks them based on their expected conversion rates.
Explore Best Marketing Automation Agencies 2023
For Whom is AdCreative.ai?
AdCreative.ai serves a wide range of businesses, including e-commerce stores and startups, as well as marketing agencies with multiple accounts.
AdCreative.ai's unique and data-backed approach can benefit anyone looking for a competitive edge through the power of AI-driven ad creatives.
AdCreative.ai Pricing 2023
AdCreative.ai recognizes that businesses come in all shapes and sizes, each with its own set of needs. As a result, their pricing plans are designed to accommodate businesses of various sizes while still allowing access to the benefits of AI-generated creatives.
Business owners can now benefit from increased brand visibility and increased customer engagement at an unbelievably low cost.
AdCreative.ai Startup Plans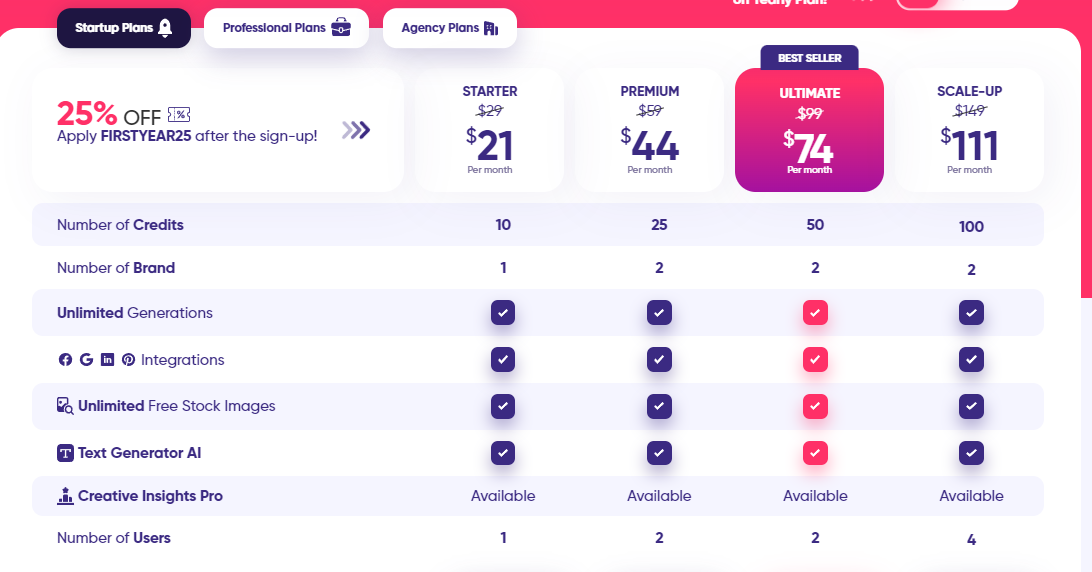 AdCreative.ai Professional Plans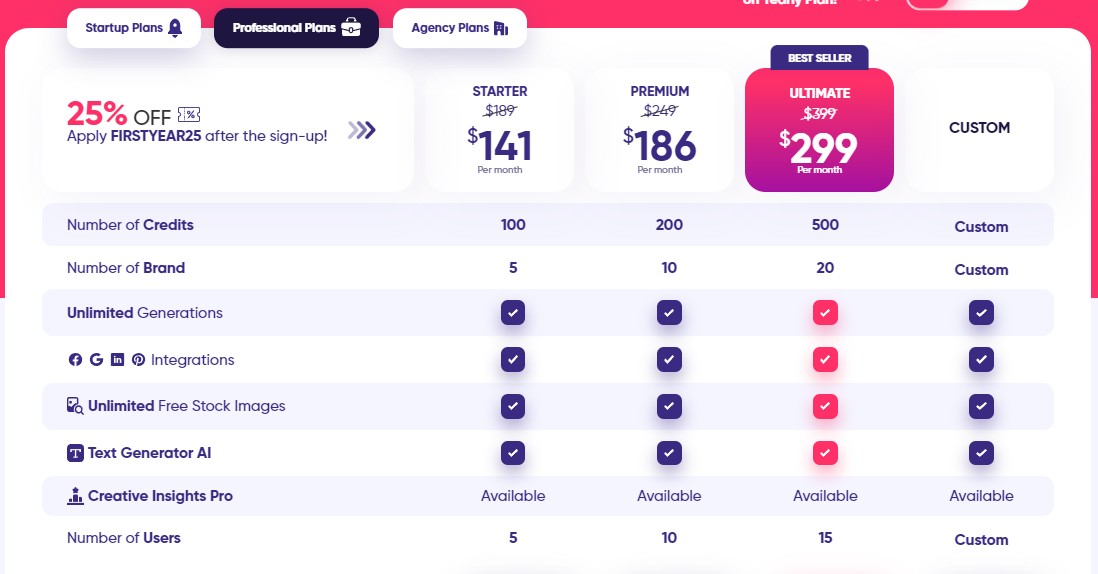 AdCreative.ai Agency Plan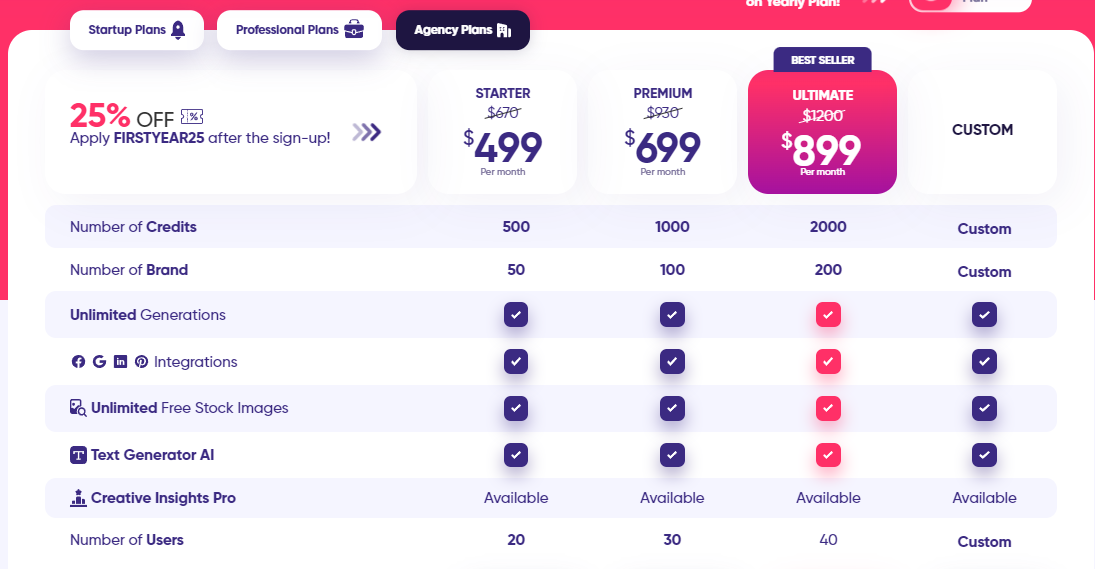 Check for the latest Pricing of AdCreative.ai
in the last AdCreative.ai is at the forefront of the marketing landscape, enabling businesses to easily create high-converting ad creatives. Its AI-driven approach, backed by data and insights, opens up new avenues for marketers looking to take their campaigns to new heights.
AdCreative.ai is a game changer in the world of digital marketing, with seamless social media creatives, AI-powered copywriting, and collaborative features. With AdCreative.ai, you can embrace the future of marketing and witness the transformative power of AI in your advertising endeavors.