Welcome to the investing with Harshal Patil Blog
Hi friends,
Welcome to SaveToInvesting, a website devoted to the combination of stock market investing and technology. I'm the blog's creator and owner, and my name is Harshal Patil. I also work as a software developer in the fintech sector.
I started this blog because I'm passionate about both investing and technology, and I think the two industries are entwining more and more. My objective is to impart my knowledge and insights to others who are interested in these subjects, as well as to offer insightful information and analysis to guide readers in making wise investment choices.
This blog's target audience is anyone interested in the stock market and technology, whether they are seasoned investors or just starting out. My hope is that my content will be informative, engaging, and thought-provoking to readers, and that it will help them stay up to date on the latest news and trends in both the financial and technology industries.
You can expect a wide range of content on this blog, including stock market news and analysis, stock predictions, and discussions of the latest technology and how it is impacting the investment landscape. I strive to make my content unique and informative, making it worthwhile to read for anyone interested in the topics I cover.
I am in the stock market for the last 4 years. I have good experience as well as expertise in the stock market. Currently, also I am doing swing trading.
I Guide many people who are Beginners in the Stock Market. You can see my pages on Instagram. There are more than 10k followers by considering both pages.
I learned a lot in the last 04 years of my stock market career. Now it's my profession. I liked to Guide people who don't have too much experience in the stock market.
So, I have started this blog to Give knowledge about the stock market whose have been I learned from my past experiences.
I have done a lot of courses related to the finance field.
I have completed a financial analyst and training and investing course under the guidance of an Award-winning MBA professor who worked at Goldman, in hedge funds and venture capital.
This is my course completion certificate.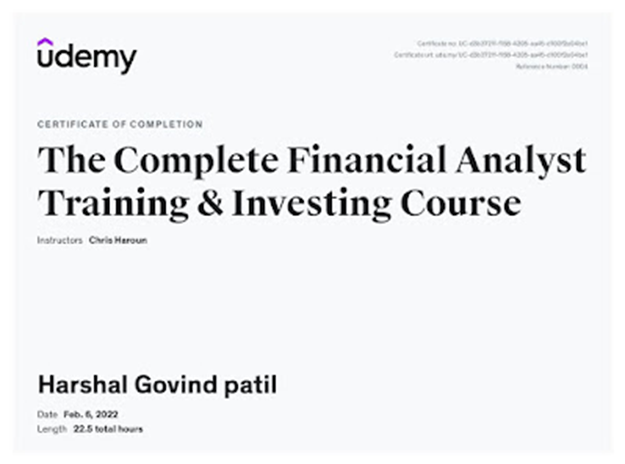 Vision
To educate people about Stock market investing ,Latest Technology and trading through my Knowledge and Experience.
Thank you for visiting SaveToInvesting, and I hope you find the information on this blog helpful and informative. If you have any questions or feedback, please don't hesitate to contact me.