Day trading | basic behind the intraday trading
The Basic Behind intraday Trading in the stock market.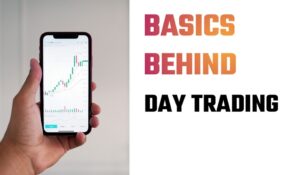 What is Day Trading  :
Friends, the trading method in which we buy (long) or sell (short) shares in one day can also be called intraday trading.
In this, you have to sell your position, that is, if you have bought shares in the morning, you have to sell them by evening. I mean you have to exit your position on the same day, we call it day trading on intraday trade.
Basic Behind Day Trading in the stock market.
1. Control Your Emotion in day trading.
Everyone at some point or another, and has a strong desire to look for a solution to the problem of How to control emotions in day trading? We know that emotion is the greatest obstacle to our trading success, but we also allow emotions to drive our actions, and sometimes you end up with huge losses.
If we're addicted to emotions, and sometimes we do the wrong thing, at the wrong time, for example, we buy the stock, predicting that it will definitely go up. However, if it is not, we have to keep our ego's sake. It is very difficult for us to admit that we were wrong. There are many other similar examples.
Therefore, the only way to trade effectively, and without the feeling of guilt is to be in control of your emotions while trading. The four emotions that will provide investors with hope, greed, fear, and sadness. How to suppress these emotions, it is necessary to be happy and successful. After a lot of research, I have come to the conclusion that the surest way to control emotions is to use the trading process more efficient.?
Well, you have to follow strictly in accordance with the plan. Do plan your entry and exit, and only on the basis of the plan. It sounds easy, but it's hard to do, isn't it?
If you find yourself in a trading position, with a consistent plan, you have a better idea of what the promotion will be able to do it.
So, if you are following a pattern that does not work, the best thing you can do is exit your position.
Many times, the pattern will turn against you, and you have to take the loss and accept it — but you don't have to wait for the market to be inefficient in order to get out of it.
As I've said before, I have to stop the position for a small gain. There is no shame in making small gains, it's better than losing every day. If the theme doesn't work for you, I would suggest you go with small or medium-sized gains.
I provide shares so long as they can, however at the same time, if the stock isn't doing what I need, I cut it. This facilitates maintain me in control
3. Find your trading Strategy :
Create your own trading strategy that can save you time and money, as well as be fun and easy to use.
The first step is to create your own trading strategy in order to decide what type of trader you want to become, decide your time frame, and decide in which instrument you want to trade.
When creating a trading strategy, it is best to have a look at how running has performed in the past (Historical data points), to refer to it for information.
The creation of the entry and exit points, along with any other rules and points that can help you to make your strategy to be effective.
The test of the strategy at different levels and in different time zones, both to help determine when and how it will work, as well as the best ways to make profits and avoid losses.
4.

Build a Watchlist

:
As the name suggests, it is a watch list is a list of things that we pay a lot of attention to in the market. The aim of this watch, the list is in order, to facilitate trade and enable you to see the opportunities when they appear.
The most successful day traders, especially those that are focused on the supply, always take advantage of a "watch list" for a variety of reasons, such as:
With the simplification of the trading, with the Help of the watch list, you can make your trading easier to track stocks.
Easy-to-Use Trading watch list is, in general, it is relatively easy to use, as well as, it scans the whole of the market in front of them.
5.

 Protect your capital :
Protecting your capital is the most important part when it comes to trade. If you cannot protect your capital you will not survive in trade. 
The main drawback of trade is the topic of debate in the trading world. I have found many traders who lose their money completely at the beginning of their trading.
No matter how big or small your capital is, you must protect your capital.
Trading revenue is fuel for your trading activity. You need to have money to live in the trading business.
Thanks For Reading, Have a great day.