Best stock market app | Stock market apps for India
Hey, Guys today we doing a discussion about the best stock market apps in India.
Now a day, if you are a stock trader, then it is important for you that you are constantly updated every minute of the market movement. Modern stock market traders keep tabs on the ups and downs of stocks on a daily basis and sometimes every hour. High-speed internet and usable mobile apps have made lives easier, faster, and more efficient. These finance-related applications help traders stay updated.
So, today I am going to introduce you to the best Stock Market apps that will make your stock research easier in India.
05 Best stock market apps| websites in India.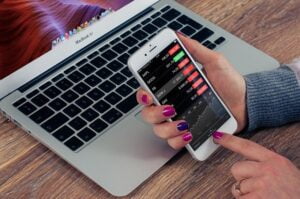 If you are trading/investing in Stock Markets then the Money control App is the best app for you. Summarizes your Stock Market and MF Investments carefully and keeps you informed of the latest prices for this Investment.
You can create your own portfolio in the Money control App and easily track all your Stock Market finances with this app at the click of a button. Apart from just following the latest value of your investment, it also gives you suggestions on how to buy/sell or hold your investments.
Money control has been a very popular position in tracking stock investing for many years. Previously it used only its own version of the web which is moneycontrol.com but now they have both web and App.
Almost all traders working in the stock market use financial control to keep track of their investments. The portfolio you create on the website can also be viewed in the App and vice versa.
  Image Source –  Google Play
The benefit of the Economic Times is to keep up with the latest business news and to make informed decisions.
Features of Economic Times
Get the latest and most popular business news
Share news articles with friends, colleagues via email, FB, Twitter
Benefits from Views and Stock Market recommendations from Experience investors.
Latest updates from Stock Market.
Manage your investment in the Stock Market with ET Portfolio
Trace stocks on your watch list, Market Top Gainer, Top Looser.
India's Unlimited Stock Exchange Program for short-term investors and traders.
Stock Edge is the best trading app in India, focusing on 100% research and statistics. It empowers users to do their own research by providing all the necessary tools for conducting high-quality stock research based on Fundamental, Technical & Derivatives Research with a very simple framework for understanding.
Stock Edge is the best and fastest-growing stock market app in India and offers Mutual Funds analytics and research, especially based on NSE & BSE data. It helps Traders and investors to analyze the stock market more in-depth and make better decisions by providing them with day-to-day analytics, visualizing compliance with individual needs, and analyzing market data in the best possible way.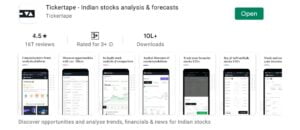 Image Source –  Google Play
Tickertape is a modern stock analysis platform designed to keep you in the middle of the process. It focuses on critical metrics analysis with powerful tools support that can be a factor in improving your knowledge of the market and their participation.
The most popular stock exchange tool in India.
130 Indian stock analytics filters
Add a set of filters (and their price ranges) to investigate a group of shares together
Create your own custom filters depending on what you want to test.
     Image Source – Google Play
This is an app that should be used by professional retailers. Provides preliminary analysis of price movements for various stocks or intraday. You can find important technical details eg Support, Resistance, Stop loss on intraday trading.
Provides comparisons of any particular company with other peer companies in terms of credit rating, sales, profit margin, EBITDA, ROE, etc.
Suggestions that you should buy any stock by looking at the company's long-term performance in the past and future.
It provides a measure of whether a stock is available at an attractive price.
Whether your portfolio exceeds the market.
A portfolio test means you have the right stocks that will provide a better return in the near future.
These apps are my personal favorite I use them on a daily basis.
Thanks for reading.